The new 4000025 Ferguson Tractor LEGO exclusive set that is a gift for the LEGO Inside Tour folks (as well as for internal TLG promotional use) is a very attractive and true to the original to the 1950s version of the set.  I give the designers two thumbs up for the excellent design, faithful to the original. 
The Ferguson boxtop...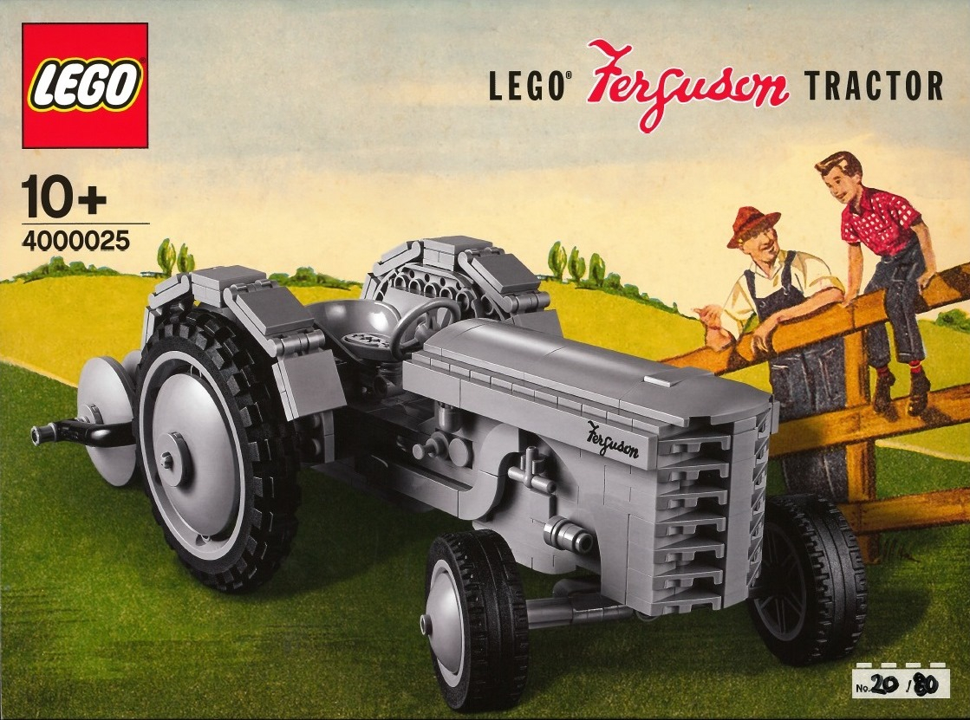 The 4000025 Ferguson built model (image PromoBricks)...
Here's some background on this 1950s iconic LEGO set, that really did a lot to promote LEGO plastic toys via strong sales that funded other plastic LEGO items...
1951.... LEGO licensed the production of Ferguson Tractors from a very small company called TRITON, who owned the rights to this tractor, and may also have licensed it out to other toy makers at the time (TEKNO, HANSE).  The tractors, and even the boxes sold by TLG were vertually identical to those sold by TRITON.
From 1951-54 LEGO sold over 100,000 Ferguson Tractors.  This genereated a lot of income for TLG (moreso than the slower wooden LEGO toys), and Ole Kirk and Godtfred Kirk Christiansen were smart, and reinvested the profits into the development of faster selling plastic toys, including the new Automatic Binding Bricks, and LEGO Mursten bricks.
Here is an early Ferguson Tractor kit by LEGO that shows the gray tractor parts held in place in an attractive box.  These were produced mainly in gray and red....
Here is the original TRITON produced Ferguson Tractor.  Even though this is not a TLG produced product, these are also very valuable...
Both the TRITON and LEGO produced Ferguson Tractors also came completely assembled in a different box.  Here is an assembled red LEGO Ferguson Tractor, with the box labeled 'LEGO'...
Here is a TRITON labeled box....
Besides just the tractors... there were also a large number of farming attachments produced to 'prepare the fields'.  Here is a 1952 LEGO brochure that listed the different parts that could be purchased separately for the tractor....
Ironically both LEGO and TRITON produced boxes with the same item numbers and box types....
LEGO retailers had a display model of the Ferguson Tractor that were made of clear plastic, and showed the customer exactly how the pieces were assembled.  These clear plastic retailer models are highly prized by collectors today....
LEGO toy retailers also had a Ferguson Tractor Retailer Box... where children or customers could purchase spare Ferguson Tractor parts, if some went missing.
There was one of these retailer boxes for red tractor parts, and one for gray tractor parts.
The Ferguson Tractor was made with many variations from the 1951-57 era... early models had white rubber wheels, some parts were also available in other colours, and the boxes varied from country to country.  Ferguson Tractors were sold in Denmark, Norway and Iceland (under a REYKJALUNDUR label).  These old Ferguson Tractors command very high prices... not far off from the new limited edition LEGO version.
These early Ferguson Tractors are a new chapter for my Unofficial LEGO Sets/Parts Collectors Guide, along with chapters on the 1952-57 1:43 scale LEGO Chevrolet Trucks/Wagons.  Above is just a sample of the chapter images.