Hello Everyone!
I have a question. I have a few display cases from lego stores. I tried to look them up online, but quickly found out they might be rarer than I thought.
One of those displays is this display:
Note the above case has glass, not plastic. It also has a mirror at the back and a built-in LED light with a wire that goes into a power outlet. I got this set from a moving Top-1-Toys toy shop in my town and can thus testify it is from a store.
I've done some searches and I just can't find it anywhere. It's not on Bricklink. I can't find it on ebay, eurobricks or google. Is this thing unique? The closest I've found was this: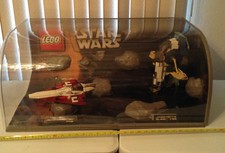 Note the plastic asteroids and overall lower quality of that version.
Has anyone ever encountered my display before? What would it be worth?