Shopping at LEGO or Amazon?
Please use our links:
LEGO.com
•
Amazon
As an Amazon Associate we earn from qualifying purchases.
Full Train Layout Control with Tablet
We have been working on expanding our train automation system.  The video below provides a glimpse of the (near) future.  In this video we control everything from a tablet: switches, traffic lights, train head lights and the train itself...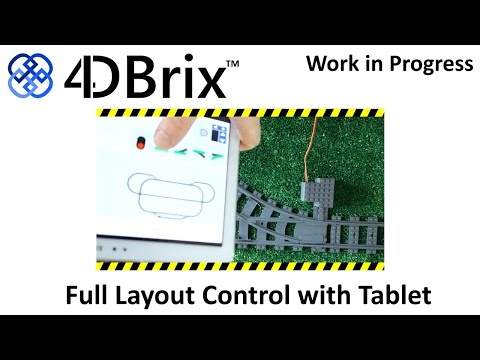 The layout automation system is connected to a PC that runs nControl, the tablet interfaces with the PC using a remote desktop app like TeamViewer.  The train uses a prototype of our WiFi based train controller.  The train communicates with nControl using nControl's internal MQTT server.  The track switch motors and controllers are available; the traffic lights should become available the first weeks of April.  The train controller is in development: the goal is to be able to control the direction, speed, head lights, check the battery power, and use a position sensor so nControl can track the position of the train on the layout.
Let us know what you think!
Shopping at LEGO.com or Amazon?
Please use our links: LEGO.com • Amazon
Howdy, Stranger!
It looks like you're new here. If you want to get involved, click one of these buttons!
Quick Links
Categories
2

Announcements

10K

General

13K

Shopping

2.1K

Brickset

1.1K

Other
Brickset.com is a participant in the Amazon Services LLC Associates Program, the Amazon.com.ca, Inc. Associates Program and the Amazon EU Associates Programme, which are affiliate advertising programs designed to provide a means for sites to earn advertising fees by advertising and linking to Amazon.
As an Amazon Associate we earn from qualifying purchases.