(I looked back several months and didn't spot any existing threads)
From
the front page article
:
The Brick Show
has published an image of the Series 17 Collectable Minifigures which are on display at the New York Toy Fair. The series features plenty of new elements and some brilliant minifigures including a pastry chef, a vet, a weightlifter and a boy wearing a rocket costume.
Here's the smaller image from the Brickset article: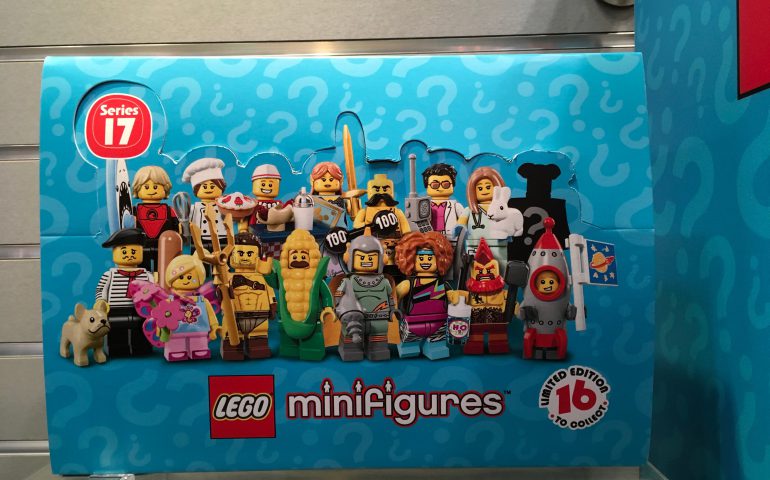 Also,
the Brick Show's article
has a much larger version of this photo (3000x2250).
These aren't official names, just my guesses/descriptions to help the discussion along:
Front Row (L-to-R):
1. French Guy
2. Fairy Girl
3. Not Sure - Some sort of warrior
4. Corn Cob Guy
5. Classic Serial Sci-Fi Villain (e.g., from Buck Rogers, Flash Gordon -type film serials)
6. 'Eighties Aerobics Lady
7. No Idea - Angry Troll???
8. Classic Rocket Kid (with juniorized Classic Space Logo flag)
Second Row (L-to-R):
9. Surfer Guy
10. Female Pastry Chef
11. Diner Guy
12. Female Elf Warrior
13. Classic Weightlifter
14. 'Eighties Guy (with brick-style cellphone)
15. Veterinarian
16. Unknown: Thought to be a highwayman
Diner Guy is holding a blue tray with a hot dog in a bun, plus a milkshake container.  (That's one I planning on getting at least a few of for MOC purposes).
'Eighties Guy's cellphone looks to be a standard walkie-talkie with a 1x1 printed tile of a telephone speaker and a cheese slope with a phone keypad.