As a big fan of the cartoon series REBELS, I thought it a good idea to have one thread where we can discuss everything related to this very fun and exciting animated Star Wars series, and tie it all in with all the Star Wars sub-theme 'Rebels' Lego sets which have been released, and the ones that will be released in the future.
I know
@xwingpilot
started this thread:
http://bricksetforum.com/discussion/22528/star-wars-canon-fodder#latest
in the off-topic section, which I appreciate very much, as a way of discussing everything and anything somehow related to the SW universe. However I feel our Lego forum needs a specific topic where this cartoon series can be discussed as well as all the Lego sets based on this cartoon series.
Here is the trailer for the coming Star Wars Rebels Season Three which premieres September 24th :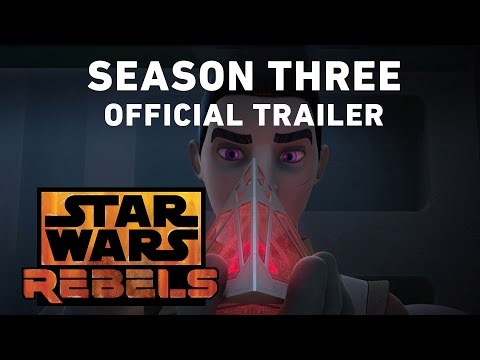 For more info on Star Wars Rebels:
http://starwars.wikia.com/wiki/Star_Wars_Rebels
http://www.starwars.com/tv-shows/star-wars-rebels
Of all the sets released so far, my five favourites are:
#75053   The Ghost
#75048   The Phantom
Odd that these two ships are two separate sets, but combined (as they should be) it is both such a wonderful display set (IMO), as well as a fantastic playset I imagine. Also if you have these two sets you will already have five of the six main protagonists of the show: Ezra Bridger; Kanan Jarrus; Hera Syndulla; Zeb Orrelios; and C1-10P a.k.a 'Chopper' the grumpy astro-mech droid.
#75150   Darth Vader's Tie Advanced vs. A-wing Starfighter
This set does not only contain two awesome spaceships, that IMO are really well designed, but this set also contains the sixth main protagonist/character of the show: Sabine Wren, a former Imperial academy cadet from Mandalore turned rogue. She sports the Mandalorion bounty-hunter outfit, and is the crew's demolition expert with an artistic twist. If you hadn't noticed yet, I think she is probably my favourite character of the bunch. The other three excellent minifigs in this set are of course: Darth Vader; Grand Moff Wilhuff Tarkin; and last but not least a really cool female A-wing pilot.
#75082   Tie Advanced Prototype
Another really nicely executed Tie-fighter in Lego, with three minifigs. Two of whom look outstanding: the Grand Inquisitor (the first brother, I assume, until his untimely demise, at the end of season one, even though he has reappeared in a different shape in season two); Imperial officer Cumberlayne Aresko who ironically got executed by one of the other minifigs in this set (guess who?!); and last a 'Rebels' version of a Tie-fighter Pilot, whose printing, unfortunately similar to that of the stormtroopers, is a little different from the other 'regular' Tie-Fighter minifigs.
#75083   AT-DP (all terrain defense pod)
Lovely looking bipedal walker, which regrettably does not have posable legs. To me this is somewhat of a design flaw, as I believe the Lego designer could have given the legs actual ankle, knee, and hip joints, so you can pose the walker in a actual walking stance. Still apart from this it is a wonderfully well designed Lego build. It comes with four minifigs: Agent Kallus from the Imperial Security Bureau (ISB), one of the main antagonists of the entire series so far. The minifig is reall nice, and the character is also interesting in that he throughout the series has been given more depth, and consequently is now more rounded, so you get to actually relate to him. I am curious about how the writers of the show will further develop him, and even wonder if he might at some point defect, or if he will continue his strong resolve to fight for and serve the Empire? I love the two AT-DP pilot minifigs, superb design. It also contains a droopy moustachio 'Rebels' stormtrooper (nuff said).
So Which sets do you all like the best from this series?
What sets have you collected so far from Rebels?
Do you try to collect them all, or only some of them?
Which vehicles/spaceships or locations, and characters do you hope TLG will turn into Lego sets and minifigures?
What do you like about the animated series? And what do you hope will happen in future episodes in SW Rebels?
etcetera etcetera..
Looking forward to all your input, and an animated discussion on SW Rebels.