As 
much as I would like to keep this lot, space and practicality say otherwise.
half this lot was a random re-discover and a couple are additions I have made over the last month as I've been carried away on a pirate wave of nostalgia. This small bundle is also responsible for my latest MOC, which I will be posting images of in the appropriate thread when the last elements are finished in around a week or so, but more of that later.
for now let's see what we have on offer here. This is a lot of 1989 Pirate Lego. Mostly the overall condition is good, but some parts are showing there 30 odd years and a few of the set have had replacement parts over the years, but I will be a specific as I can photo by photo.
as a lot we have:
Specifically we have:
Pirate Island
#6270
- I think this set is complete, the condition is pretty good, the clutch on the treasure chest is poor and there are no coins. There are instructions.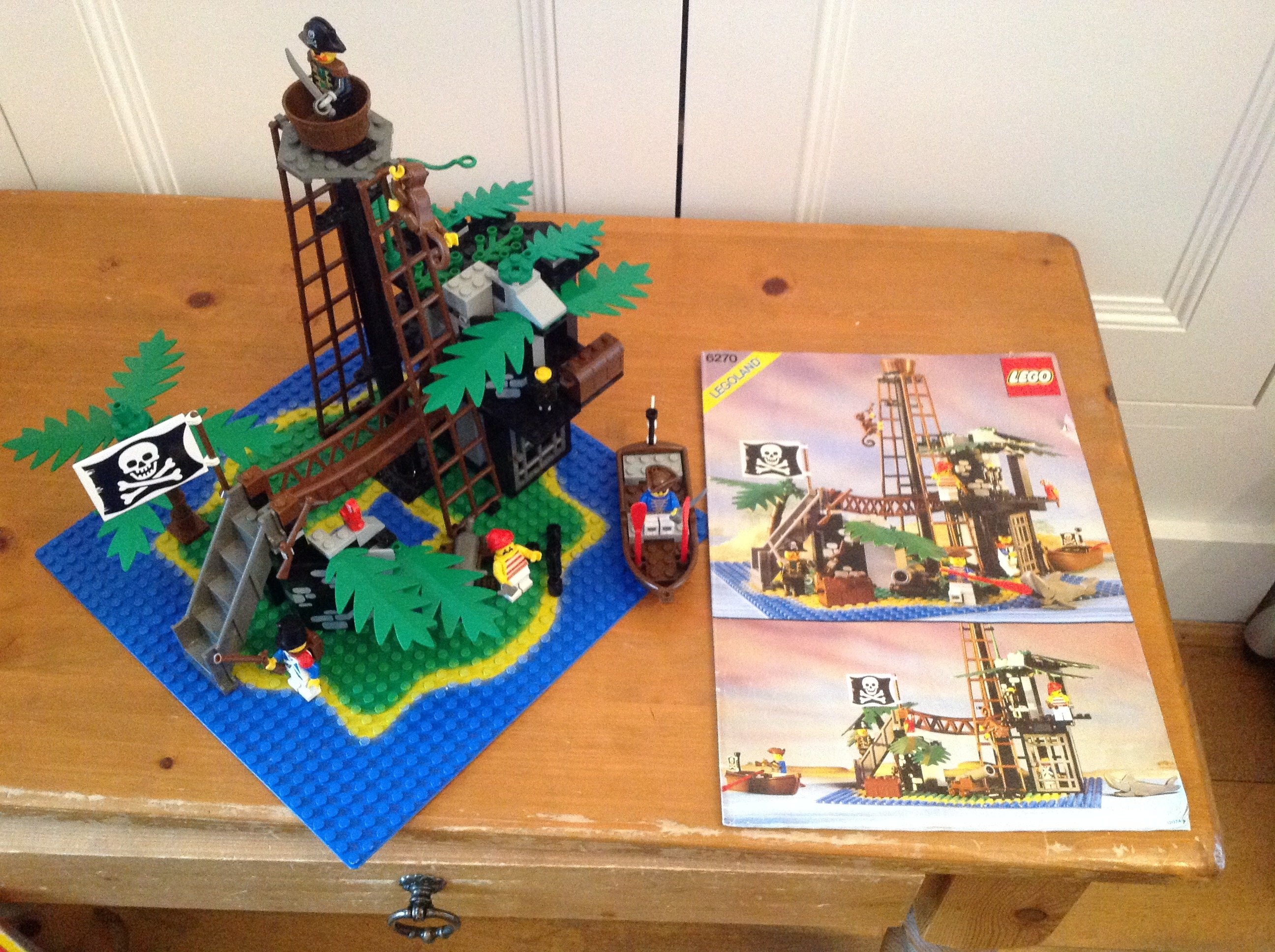 We have the small pirate island
#5260
with instructions, there is a replacement part here where the brown palm tree top is now green. Overall pretty good condition.
we then have a pair of pirate rafts
#6257
both are in great condition, with two sets of instructions and oddly a flatted box the Sharks can be seen in the big picture at the top, there are three in total in this lot.
we then move on from the Pirates to the soldiers side.
we have the sabre island
#6265
set: the only let down here is the clips on the flag have broken, it is still present and can be seen in the extras bag in a few pictures time and the rest of the set is fine, again with instructions.
We then move onto Elderodo Fort. This set is OK as far as condition goes, I picked this up a few weeks ago and it was missing all sorts of bits, but over the month I have sourced all but 1 bit and that is the printed 4444 part at the top of the tower so have used a similar replacement, also the five laps are from the 90's as I wanted them to all match rather than the triple rimmed 80's version. The last change is the flag pole is not original. But over all this is still lovely to look at and fits with the lot.
The last set is the Royal ship. This one is complete but suffers from dust a bit. I have given it a good going over and cleaned it a lot but it could do with a bit more, but aside from that it is in goo order and even comes with its original (if aged) box and instructions.
You will also see some extras and spares in the shot above, a few trooped and boat, island base and bits and bobs.
in addition to the sets there are also a few posters and a catalogue from 1989 to go with them
Everything will ill be broken down and bagged prior to shipping.
As said at the start this is being sold as a lot so if you are interested please drop me a PM. I am based in London, if possible I would happily meet up to save on shipping but if not possible I will pack, box and ship.
thanks for looking
matt