I'm not sure if this has been discussed in the forum before (couldn't find anything related using the search bar), but I recently came across this Facebook post through a YouTube video: The content may be disturbing from a LEGO fan's perspective!
https://www.facebook.com/media/set/?set=a.940353836046856.1073742036.802963709785870&type=3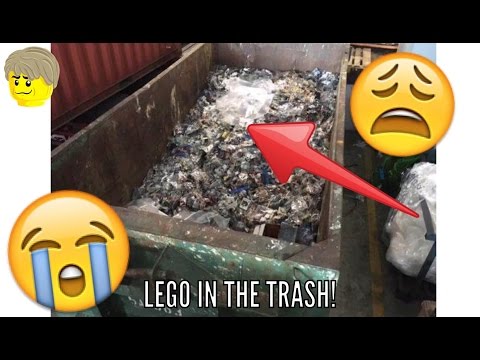 https://www.youtube.com/watch?v=WcMklJqXuZE
Sadly, I believe this is a practice taken on by many many companies at a much larger scale. I read about a person in Popular Mechanics once that made a six figure income driving to big box store dumpsters and salvaging basically new products (dumpster diving is a legally blurry line in some states, however. Don't try this at home kids!) It is probably economically safer to proceed with this practice, but, come on, really? I can think of countless underprivileged children that would benefit from these sets. They don't care if the box is smashed or a piece is missing? Anything would be better than sending these (presumably) to the landfill. Of course, then their is the issue of control. As we know, LEGO isn't the most fond of resellers. Although beneficial from our standpoint, selling them at a discounted rate would likely (in their minds) abuse their product image. 
The best solution I saw was a YouTube comment. Why not bring back the much loved Grab Bag? I'm sure it wouldn't be that hard to get a machine to rip open the boxes/bags and filter the pieces into new bags for distribution (I am ignorant, so I could be wrong...). Where do you guys stand on this issue? Am I crazy for thinking there is another way?
Full Disclosure: These are only my opinions and I know nothing about the subject. All credit to the post by 
Customize Minifigures Intelligence
 who seems to specialize in exposing fake LEGO...