Shopping at LEGO or Amazon?
Please use our links:
LEGO.com
•
Amazon
As an Amazon Associate we earn from qualifying purchases.
2016 sets now available - January offers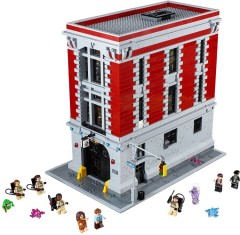 Happy New Year!
The entire January 2016 range is now available from LEGO [email protected] and in brand retail stores. This includes the highly-anticipated direct-to-consumer sets 10251 Brick Bank and 75827 Ghostbusters Firehouse Headquarters.
You can take a look at a full list of the new sets here, although it may take a few minutes for the list to update to include the most recent sets.
Please help support Brickset by using the following links when making any purchases:
USA | UK | Canada | Germany | France
UPDATE (00.18): It appears that the prices of some sets are being inflated when you reach the checkout while others are being reduced. I suspect this may be the first of many issues to come, perhaps enough to beat last year's debacle!
UPDATE (11:28): Everything seems go be back to normal. Let's see how long it stays that way.
© 2016 Brickset.com. Republication prohibited without prior permission.
Shopping at LEGO.com or Amazon?
Please use our links: LEGO.com • Amazon
Howdy, Stranger!
It looks like you're new here. If you want to get involved, click one of these buttons!
Quick Links
Categories
2

Announcements

10K

General

13K

Shopping

2.1K

Brickset

1.1K

Other
Brickset.com is a participant in the Amazon Services LLC Associates Program, the Amazon.com.ca, Inc. Associates Program and the Amazon EU Associates Programme, which are affiliate advertising programs designed to provide a means for sites to earn advertising fees by advertising and linking to Amazon.
As an Amazon Associate we earn from qualifying purchases.