Hi there!
I recently joined this forum and here is my introduction!
I am a 22 year old AFOL from The Netherlands and I've been out of my dark ages for about 3-4 years now.
The modular buildings dragged me back into Lego again ;)
When I saw the Grand Emporium in a Lego store in Colonge I knew I had to have at least one of the buildings. Then my girlfriend said: Let's buy it now and build! And so it began. Like some sort of virus it all grew back on me. It started with just 3 modulars; the Fire Brigade, Grand Emporium and Pet Shop. Then a small road. Some cars. Creator houses. And now I got a whole town (8x4 baseplates).
I called my town "Hotmok". I put the words 'hotdog' and the dutch word for 'mug' (mok) together. My town has countless hotdogs and mugs all over the place, so that's the little story behind the name ;)
I mainly collect sets and put them in my city. I also got some themes like Lone Ranger, Architecture and Monster Fighters. In the last couple of weeks I started to try and build some mocs and modded some sets in my town.
My latest moc is called "Benny's spacetrain spacetrain SPACETRAIN!!!" and it is made with parts from Benny's Spaceship and some old trainwheels and magnets. It turned out so much better then I expected! After I took some pictures I felt like it needed to drive. So I took out my 9V rails and 'engine' and now it drives around on my rails :)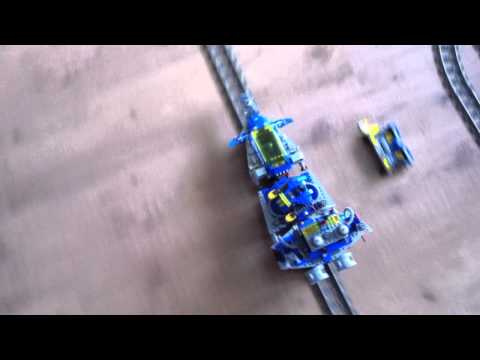 Some other small mocs/mods and more pictures of Benny's spacetrain and my town can be found on my Flickr:
https://www.flickr.com/photos/

[email protected]

/
I have got some new ideas, wich mainly involves taking sets that I own apart and build something diffrent from it.
Well, that's all for now! See you around!