I have my Carousel (10257) powered by a Medium Linear Motor connected to a Hub (88009). There is a second motor in this Hub that is also powering the Roller Coaster (10261). 
Lately the Carousel seems to be labouring in its movement, which is putting a strain on the motor (which now alternately flashes orange and blue). I've attached a video of what's happening for reference. 
Things I have ruled out:
It's not a battery issue
It's not this specific motor (I tried a different motor)
It's not down to powering two sets at once (it still happens with the Coaster disconnected)
Recently I had to fix the long technic beam that runs across the centre, as it had started to dislodge from the pins it was on. I thought that was the problem, but it has continued. It sounds sort of - I dunno, squeeky? 
One thing that might be happening is that the Light My Bricks lighting kit is somehow putting a strain on the movement. But I can't see any evidence of this. 
To be honest, I'm starting to feel resigned to rebuilding from scratch, but this post is a last ditch effort to see if I could be spared from that (I already have too many sets waiting to be built!). 
It's probably asking a lot for someone to diagnose this from a video and description, but any thoughts welcome!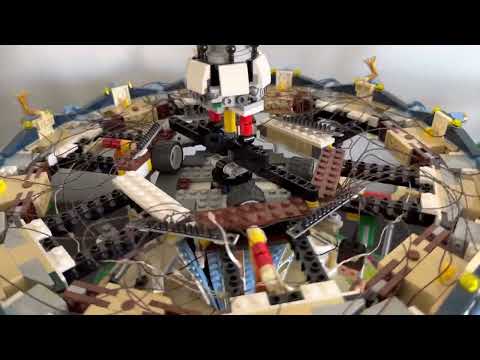 https://youtu.be/Kjf1P0EwSRg